Explosives Software to Track Inventory and Stay Compliant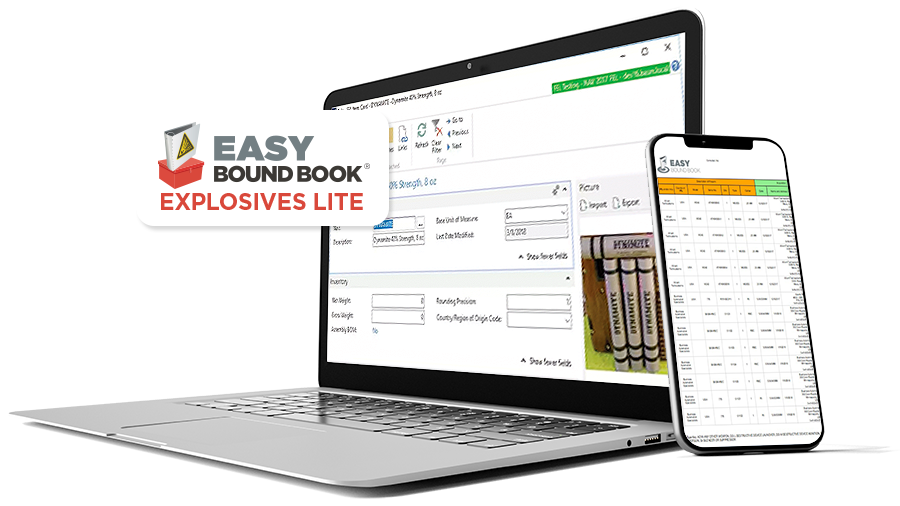 "We've seen a huge improvement in how accurate our ATF record keeping is since implementing Easy Bound Book. The personnel now have peace of mind when processing orders."

U.S Defense Contractor
Easy Bound Book Explosives Lite
Effective ATF compliant software with enhanced reporting and inventory features.
BASM built Easy Bound Book Explosives Lite on the Microsoft Dynamics 365 Business Central platform.
Why Microsoft Dynamics 365 Business Central?
It's user-friendly and easily integrates with the suite of Microsoft office products. Most importantly, Business Central is built to be modified to meet the unique strengths and business models of our clients.
The modifications are what allow us to integrate our proprietary ATF compliant software with Business Central to provide our clients' a superior ATF compliant and business process software solution.
With Explosives Lite you can:
Establish Special User Permissions to protect the integrity of your data
Conduct your own mock audits and inventory reconciliation
Track Acquisitions
Track Dispositions
Move & Track explosive movements from Magazine to Magazine.
Net Explosive Weight automatically calculated to assure you never overload a magazine.
Warnings for magazines over weight limit; explosives in wrong type magazine.
Easy Bound Book® Explosives is fast, user-friendly, and designed specifically for the explosives industry. Manage your inventory and record keeping quickly, efficiently & accurately.
Easy Bound Book Explosives Lite Screenshots
Easy Bound Book Lite Explosives Features & Reports
ATF Compliance
ATF Ruling 2007-1 Compliant
A&D Transactions
"Undo" Function for Acquisition & Disposition Errors
Edited A&D Records Maintain a Full Audit Trail
Generate Serial Number Range for Acquisitions and Dispositions
Item Card Includes Special ATF Identification Fields
Quick Glimpse of Open Acquisitions
Sort/Filter Acquisitions & Dispositions
Unlimited Records Capacity
User Notes Field for All Transactions
Cut and Paste Data Entry
Establish Unique 'User Permissions' for ATF Regulated Transactions
Import Data
Inventory Reconciliation for Mock or ATF Audits
Dashboard – View of Critical Information & Time-Sensitive Tasks
Explosive
Magazine List with Inventory Drilldown
Magazine Setup with Explosive Type and Maximum Net Explosive Weight
Explosive based alert or prevention for wrong type magazine
Magazine based alert or prevention for over weight magazine
Explosive Item ATF identification fields
Explosive Item Optional identification fields for UN, DOT, etc.
Net Explosive Weight automatically calculated for all transactions no matter the Unit of Measure
Track FEL per Customer and Vendor and FFL for DD-Munitions
Alert for expired Customer or Vendor FFL
Export all data, reports to Excel, Word, or PDF
Full ATF compliance
Track Date Shift Code, Lot Number and/or Serial Numbers on Explosives
Inventory
Data Input – Scan Barcodes or Manually
Acquisition & Disposition Created When Items are Transferred Between Locations
Item Cards – Upload Pictures to Item Card
Reporting
Inventory Report – Open Acquisitions
Daily Summary of Magazine Transactions (DSMT)
Report All Acquisitions
Report All Dispositions
Date Shift Code/Lot Reconciliation Report
Annual (or custom date range) explosives detonated report for ATF Compliance
Optional
Installed on Your Computer or Server
Document Management – Add any Document to a Transaction
Optional – track US Government owned and privately owned explosives and report separately
Are you interested in streamlining your explosives inventory process?
Pricing Includes
Cloud Based:
Price per Named User: 1-9 Employees
$100* per month
$500 Initial Setup & Training
Price per Named User: 10+ Employees
$125* per month
$1,000 Initial Setup & Training
*Prepay 11 months and get one free
Purchase on Premises:
Price per Named User
Includes

$4,900 Software
$2,340 Training
$1,470* Software Maintenance, Upgrades and Help Desk Support
**Required 1st year
Want to Add Additional Users? Contact Us
Help Desk Support
Helpdesk Support is provided for questions related to the use of the software based on the training provided in the Easy Bound book course.
Support tools include Website Submissions; Email; Telephone; and Remote Support via the Internet
Live support hours are 8am – 4:30pm Central Time
After hours emergency support is available at afterhours rates
Support for hardware and operating system problems is available at an additional charge
Required Hardware, Operating System and other Requirements
Cloud Requirements
Compatible Browser – Chrome, Safari, Edge, Firefox
High Speed Internet access
Backup device (external hard drive, CD/DVD writer or tape-backup)
Printer
On Premises Requirements – Server/Individual PC
Windows 10 or Newer, Windows Server 2019 or newer
Hard disk space: Minimum 2 GB
Memory: Minimum 2 GB, more is better
Other Requirements
Compatible Browser – Chrome, Safari, Edge, Firefox
High Speed Internet access
Backup device (external hard drive, CD/DVD writer or tape-backup)
Printer