Explosives Manufacturing ERP for FEL Compliance and Tracking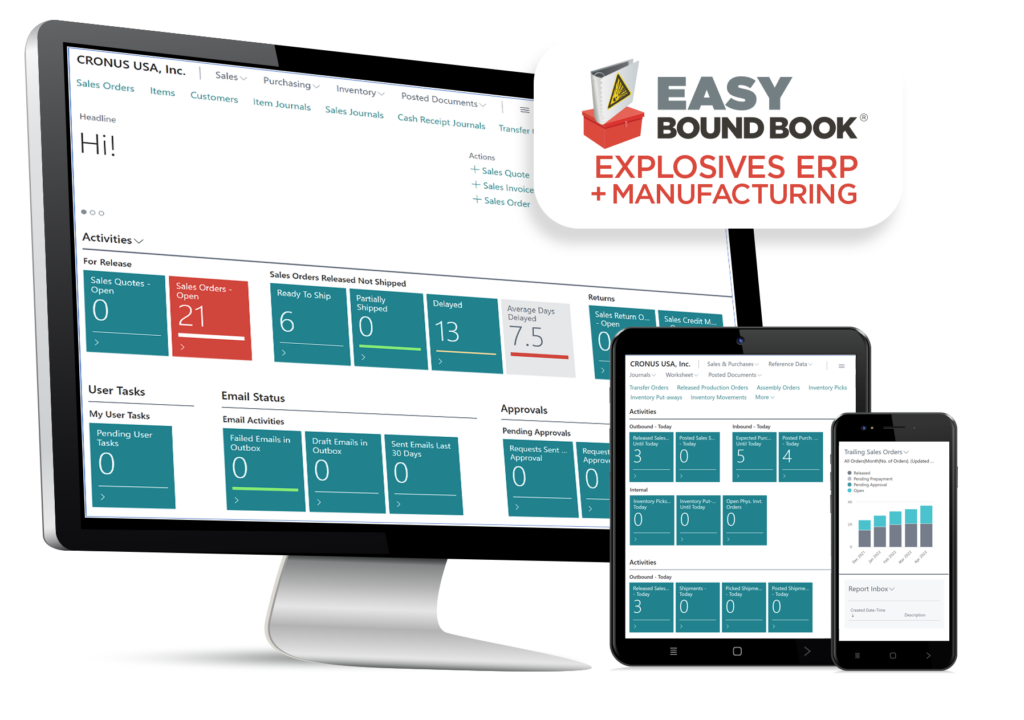 Why Use an ERP – Enterprise Resource Planning?
ERP technology brings processes together. Connecting your processes, systems, accounting and data will give you the intelligence, acceleration, and adaptability needed to optimize your operations.
Would you like to know how integrating your compliance transactions with Explosives ERP + MFG would benefit your business?
Easy Bound Book Explosives ERP + Manufacturing seamlessly integrates your ATF compliant transactions, ERP system, AND manufacturing processes into one powerful software package.
Automatically create Acquisitions & Dispositions, track movement of explosives and your Daily Summary of Magazine Transactions (DSMT) when you buy, sell, manufacture, convert, or move ATF regulated items.
Business Automation Specialists built their Easy Bound Book Explosive ERP + Manufacturing software using the Microsoft Dynamics 365 Business Central platform.
WHY? Because Microsoft Business Central is user-friendly and easily integrates with the suite of Microsoft office products, but most importantly, Business Central is built to be customized.
What is ERP + Manufacturing Software?
ERP + Manufacturing software allows you to manage your inert and explosives products, manufacturing and dealer transactions, in addition to tracking your other inventory items.
Integrate Easy Bound Book with your Web store or EDI, full warehouse management, shop floor data collection, and payroll. Installation can take place at your location, on the cloud or both, if you need.
Real time inventory planning; add forecasts; purchase and make what you need, when you need it.
Generate Purchase Orders automatically based on need.
Create Production Orders automatically with plenty of lead time to meet customer demand and minimize outdated inventory.
Track costs, margin and profitability while you run your business.
Make good decisions based on real-time data.
Manage customer and vendor pricing to maximize profit and minimize errors.
Control Customer Receivable and Vendor Payables to manage cash flow.
Contact Us Today! One of our software specialists will reach out and answer your questions.
Easy Bound Book Explosives for Manufacturing Features & Reports
ATF Compliance
ATF Ruling 2007-1 Compliant
A&D Transactions
"Undo" Function for Acquisition & Disposition Errors
Edited A&D Records Maintain a Full Audit Trail
Generate Serial Number Range, Date Shift Code and/or Lot for Acquisitions and Dispositions
Item Card Includes Special ATF Identification Fields
Quick Glimpse of Open Acquisitions
Sort/Filter Acquisitions & Dispositions
Track NFA Item
Unlimited Records Capacity
User Notes Field for All Transactions
Ability to Track Multiple FELs in the Same Software Installation (ATF Variance Required)
Cut and Paste Data Entry
Disposition Created When Sales Order is Shipped
Document Management Linking
Establish Unique 'User Permissions' for ATF Regulated Transactions
Import Data
Inventory Reconciliation for Mock or ATF Audits
Serial Number, Date Shift Code and/or Lot Management
Dashboard – View of Critical Information & Time-Sensitive Tasks
Explosive
Magazine List with Inventory Drilldown
Magazine Setup with Explosive Type and Maximum Net Explosive Weight
Explosive based alert or prevention for wrong type magazine
Magazine based alert or prevention for over weight magazine
Consolidated explosives and NFA record keeping for DD-Munitions
Explosive Item ATF identification fields
Explosive Item Optional identification fields for UN, DOT, etc.
Net Explosive Weight automatically calculated for all transactions no matter the Unit of Measure
Track FEL per Customer and Vendor and FFL for DD-Munitions
Alert for expired Customer or Vendor FEL
Export all data, reports to Excel, Word, or PDF
Full ATF compliance
Track 2016-5 Mil Spec munitions
Track Date Shift Code, Lot Number and/or Serial Numbers on Explosives
Payables & Receivables
Invoicing
Purchase Planning
Write Check
Financial
Cash Management
Integrated ERP – Accounting & Inventory Management
Notifications for Over Credit Limit, Late Payments & Notice for Customers & Vendors
Sales Orders
Inventory
Data Input – Scan Barcodes or Manually
Acquisition & Disposition Created When Items are Transferred Between Locations
Item Cards – Upload Pictures to
Complete Business Inventory Tracking
Purchase Orders
Manufacturing
Assembly Orders
Acquisitions & Dispositions Created During Manufacturing Processes
Bill of Material – Includes other BOMs, Resources or Items
Bill of Material, Routing and Manufacturing Processing
ERP Function and Reporting During Manufacturing Process and Subcontract Manufacturing
Machine, Resource and Capacity Planning for Manufacturing
Manufacturing Planning
Manufacturing Routing – Includes Work Centers, Machines and Subcontract operations
Manage Sub-Contract Manufacturing Processes; Including Serialized Items – User can see what serial numbers left, came back or disappeared and automatically records these transactions in the Bound Book
Reporting
Inventory Report – Open Acquisitions
NFA Acquisitions and Dispositions
Daily Summary of Magazine Transactions (DSMT)
Report All Acquisitions
Report Acquisitions through Manufacture
Report All Dispositions
Report Dispositions through Manufacture
Explosives Movement Report
Date Shift Code/Lot Reconciliation Report
Annual (or custom date range) explosives detonated report for ATF Complianc
Separate FEL A&D report for NFA DD-Munitions
NFA DD-Munitions expended report for NFRTNR records
Accounts Payable – Current & Aged
Accounts Receivable – Current & Aged
Financial Statements – Balance Sheets, Profit & Loss, Cash Flow
Run Manufacturing Production Orders
Optional
Document Management – Add any Document to a Transaction
Time and Data Collection on the Shop Floor
Installed on Your Computer or Server
Credit Card Processing
Optional – track US Government owned and privately owned explosives and report separately
Do you want to integrate your compliance transactions and your manufacturing processes?
Easy Bound Book Explosives ERP + Manufacturing Screenshots
Click images to enlarge
Pricing Includes
Software, Training, Upgrades, Software Maintenance, and Help Desk Support.
Cloud Based: 1 Named User
$495 per month – Prepay 11 months and get one FREE!
Software
Training
Upgrades and Software Maintenance
Unlimited Help Desk Support
Purchase on Premises: 3 Named Users
$18,400 – Software
$33,750 – Training
$3,312 – Upgrades and Software Maintenance
– Required 1st year, renewal optional
Helpdesk Support is available in Block Time
OR Time & Expenses
Want to Add Additional Users? Contact Us
Setup & End User Training
Setup
---
Microsoft Dynamics 365 Business Central
Easy Bound Book Software
Company Information
Users and Permissions
Hardware, IT Assessment
Training
---
Purchases
Order Entry
Invoice Entry
Receiving
Returns to Vendor
Payment Processing
Sales
Order Entry
Shipping
Invoicing
Returns from Customer
Payment Processing
Financials
General Journals – Standard, Recurring, Reversing
Financial Statements
Bank Reconciliation
Inventory Management
Adjusting
Counting
Reconciliation
Reporting
Acquisitions from Others, Manufacturing or All
Dispositions to Others, to Manufacturing or All
Daily Summary of Magazine Transactions
Single entry for explosives and Destructive Device Munitions
Magazine List with explosive contents
Explosives movement from magazine to magazine
Open Inventory
Demonstrate required annual inventory count
ERP Reports
Manufacturing
Bill of Material Creation
Production Order Processing – Make to Order, Make to Stock
Production Planning
Routes
Machines & Workcenter
Help Desk Support
Helpdesk Support is provided for questions related to the use of the software based on the training provided in the Easy Bound book course.
Support tools include Website Submissions; Email; Telephone; and Remote Support via the Internet
Live support hours are 8am – 4:30pm Central Time
After hours emergency support is available at after hours rates
Support for hardware and operating system problems is available at an additional charge
Required Hardware, Operating System and other Requirements
Cloud Requirements
Compatible Browser – Chrome, Safari, Edge, Firefox
High Speed Internet access
Backup device (external hard drive, CD/DVD writer or flash drive)
Printer
On Premises Requirements – Server/Individual PC
Windows 10 or Newer, Windows Server 2019 or newer
Hard disk space: Minimum 2 GB
Memory: Minimum 2 GB, more is better
Other Requirements
Compatible Browser – Chrome, Safari, Edge, Firefox
High Speed Internet access
Backup device (external hard drive, CD/DVD writer or flash drive)
Printer