The Business Automation Specialists' Difference
"Realistic Solutions – The Right Mix of Technology and Business Experience".
Our first priority is to know and understand your business objectives and goals.
Software is simply a tool we use to help you reach your goals. We believe your computer (ERP, accounting, automation) system should be an extension of your business, not an impediment to your process. More importantly is our understanding of value, waste, and the end-product in your business proposition to your customers.
Business Automation Specialists are properly certified and qualified to help you. We believe having the right tools and knowing how to use them will help you leverage your resources to reach your objectives.
Your customers buy from you because you fulfill a need of theirs.
We Will:
Help you meet their needs more effectively and efficiently so you can provide superior service.
Focus on your business objectives and goals to propel you on your way to success.
Get the automation of your business system out of your way so you can do the business of your business – serving your customers.
We understand business and will help you manage and grow profitably.
"The implementation and data conversion process went better than we expected. In fact, the day of the conversion we were invoicing and shipping. Business was not interrupted in any way, and there was little to no impact from the customer side. Within two weeks of implementation we were back up to speed to where we were with the prior system. Training by BASM was a key factor to the implementation success and having their team onsite those first few days really made a difference."
Terrybear Urns and Memorials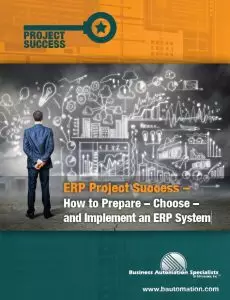 Get Our Free Whitepaper
Discover how a business management system can improve your business processes.

ERP Project Success – How to Prepare – Choose – and Implement an ERP System.