Is a Fire Control Unit considered a "Frame" or a "Receiver" by the ATF?
In the last two days we received calls from multiple clients asking to add a new ATF Type to their Easy Bound book records system. We were glad they called us first to identify if a Firearm Control Unit is considered a Frame or Receiver. These clients saved themselves from misidentifying a firearm on an entry in their Easy Bound Book records. We want to make sure you are aware, misidentifications of a firearm are usually found during ATF audits. Misidentifications can have serious ramifications.
Do you know what the correct ATF Type for the Sig Sauer P320 Fire Control Unit is?
A. Fire Control Unit
B. Firearm
C. Frame
D. Receiver
The correct answer is C. or D.; it is a Frame or Receiver. Why? Read on as we share what the ATF says in their new proposed ruling regarding multi-component firearms.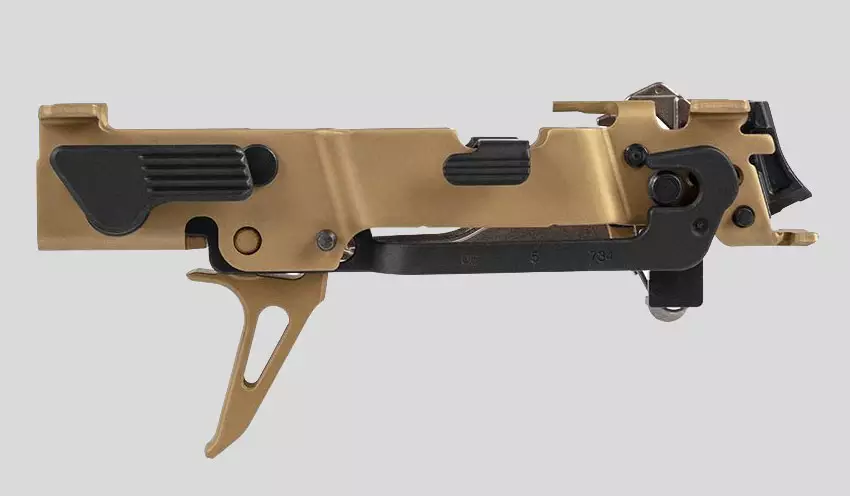 Excerpt from ATF Proposed Rule 2021R-05
---
"One important goal of this rule is to ensure that it does not affect existing ATF classifications of firearms that specify a single component as the frame or receiver.
To provide more clarity, this supplement to the definition would include a nonexclusive list of common weapons with a split/multi-piece frame or receiver configuration for which ATF has previously determined a specific part to be the frame or receiver.
If a manufacturer produces or an importer imports a firearm falling within one of these designs as they exist as of the date of publication of the Final Rule, it can refer to this list to know which part is the frame or receiver. The manufacturer or importer can then mark without needing to ask ATF for a classification.
The nonexclusive list identifies the frame or receiver for the following firearms: (i) Colt 1911-type, Beretta/Browning/FN Herstal/Heckler & Koch/Ruger/Sig Sauer/Smith & Wesson/Taurus hammer fired semiautomatic pistols; (ii) Glock-type striker fired semiautomatic pistols; (iii) Sig Sauer P320-type semiautomatic pistols; (iv) certain locking block rail system semiautomatic pistols; (v) AR-15-type and Beretta AR-70-type firearms; (vi) Steyr AUG-type firearms; (vii) Thompson M1A1-type machineguns and semiautomatic variants, and L1A1, FN FAL, FN FNC, MP 38, MP 40, and SIG 550 type firearms, and HK-type machineguns and semiautomatic variants; (viii) Vickers/Maxim, Browning 1919, and M2-type machineguns, and box-type machineguns and semiautomatic variants thereof; and (ix) Sten, Sterling, and Kel-tec Sub-2000-type firearms.
However, if there is a present or future split or modular design for a firearm that is not comparable to an existing classification, then the definition would advise that more than one part is the frame or receiver subject to marking and other requirements unless a specific classification or marking variance is obtained from ATF, as described above."
https://www.federalregister.gov/d/2021-10058/p-107
---
ATF Firearm Types – It's Important to Know the Difference
As an Easy Bound Book client you may have noticed you can no longer add or edit ATF firearm Types in your Easy Bound Book records. It is one of the many updates we have made to Easy Bound Book as part of our on-going effort to help our clients stay in compliance with ATF regulations. We have been progressively rolling out this update since January 2021.
Again, by calling us to discuss adding a new firearm type, these clients saved themselves from misidentifying a firearm on an entry in their Easy Bound Book records.
As your expert in the highly regulated firearms industry, we are here to help you. Call us first, we have your best interest and business in mind.
---
Links to ATF
If you would like more information on the proposed ruling, check out the links below. We believe, if this ruling is enforced, it may be required for two serial numbers to be recorded for every new type of firearm.
The ruling is open for public comment and you can influence the ATF's decision, so make your comments now.
To submit a comment online Regulations.gov
Definition of "Frame or Receiver" and Identification of Firearms | Bureau of Alcohol, Tobacco, Firearms and Explosives (atf.gov)
Federal Register :: Definition of "Frame or Receiver" and Identification of Firearms
Summary of Proposed Rule 2021R-05 | Bureau of Alcohol, Tobacco, Firearms and Explosives (atf.gov)
Submit a Comment on Proposed Rule 2021R-05 | Bureau of Alcohol, Tobacco, Firearms and Explosives (atf.gov)